Our Advantage


Search Engine Optimization (SEO)
We keep our fingers on the pulse of the latest SEO trends and techniques. We strive to give you the advantage of more time to focus on what you do best, and less time worrying about your online advertising campaign.
Marketing & Technology Come Together, Finally!
Why spend more money and time dealing with Marketing Firms and Technology Boutiques, when you can get all they have to offer and more in one simple solution? Visualizing Reality offers
Web Design, Web Development, Online Marketing, Logo Design,
and more.
Services Visualizing Reality Has To Offer You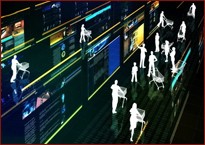 Visualizing Reality
offers a multitude of solutions to expand your company's
advertising efforts
:
Website Design
Your website is your company's first chance to make in impression on prospective customers. It should catch the eye of the user, getting them immediately engaged in what you have to offer and distinguish you from your competition.
Visualizing Reality will design a website for your company that will not only inform, but provide an experience for your visitors that will reflect the professionalism of your company.
Website Development
In today's marketplace, it is extremely important to differentiate yourself from your competition. What should your website do for you? Is it strictly a marketing tool, an E-Commerce engine or both? Whatever the answer may be, together with Visualizing Reality, we can create a custom development solution that far exceeds your visitors' expectations and portrays you as the leader in your industry.
Search Engine Registration and Optimization
Location! Location! Location!
...Everyone knows what sells in real estate. The stores with the most visibility get the most traffic. The same applies to your website; your "Virtual Storefront". Where do you want your storefront to be located? The more visible your website, the more traffic it will receive.
We stay on top of the ever changing Search Engine Optimization (SEO) techniques and we guarantee that your company will get the exposure it rightly deserves.
Logo Design & Company Branding
Your brand shows who you are before you even get a chance to talk or meet your future customers. Nike's® Swoosh™, Microsoft's® Windows™, Apple's® Apple™, Playboy's® Bunny.
What impression are you leaving, if any?
Working together with Visualizing Reality, we will establish your brand. This includes:
Custom Logo Design
Business Card Design
Letterhead Design
Brochure Design/Development
E-mail Campaign Design/Development
Pay-Per-Click Online Advertising & Campaign Management
Your website is built, your brand has been established and now you are ready to start your online advertising campaign. Let Visualizing Reality setup and manage your Pay-Per-Click advertising campaign to bring customers to you. We are highly experienced with online advertising and targeted campaign management which will bring your customers to your front door, giving you the time to dedicate to the products or services you provide.
Content Management Systems (CMS)
Who knows your business better than you? Visualizing Reality offers a Content Management System: a system that allows
you
to update your website's content. Updating content on your website will only take as long as it takes you to type it.
WordPress Blog & Website Customization
Looking to start blogging? We can assist you with customizing your WordPress Blog to reflect you and your message. We can create a WordPress Theme tailored completely for you!
Take a look at a few examples of WordPress websites we've developed and see for yourself how you can have a completely customized easy to use website or blog...
Websites Developed in WordPress
Blogs Developed in WordPress: